Health
Reproductive and Child Health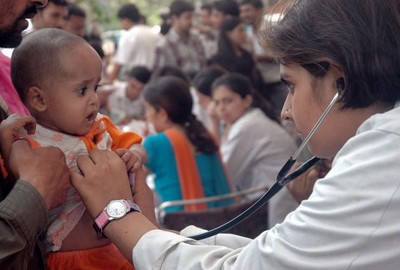 Reproductive and Child Health is one of our main focus areas in the health sector. We conduct various activities to enhance maternal and child health and increase awareness on the need to for the same among the communities. The main objective of our programmes is to bring about a change in mainly two critical health indicators that is, reducing infant mortality rate and maternal mortality rate with a view to realizing the outcomes envisioned in the Sustainable Development Goals.

Our various activities include early detection and registration of pregnant mothers followed by services like Tetanus Toxide injection, iron & Folic Acid Tablets to prevent anemia and minimum 3 periodical check-ups with a referral services to high risk mothers, regular monitoring of pregnant women and new born babies, organize sensitization camps on various health issues related to pregnant and lactating women and new born babies, awareness on the need for immunization, ANC and PNC, celebrate world breast feeding day, etc.
Health and Family Welfare
Healthy families lead to a healthy community, healthy communities build up a healthy nation. A healthy population is the key to the success and economic growth of a nation. At Divya kiran, we firmly believe that promoting good health and hygiene among underprivileged communities would go a long way in alleviating poverty and ensuring a sustainable life for all members of the communities.

To this end, we organize various camps on health and family welfare covering aspects like family planning, awareness on prevention and control of HIV/AIDS, measures to tackle anemia and undernourishment, prevention of female feticide, etc. We also organize free health camps for underprivileged communities.